An Artist's Thought Book: Intriguing Thoughts about the Artistic Process (2nd Edition)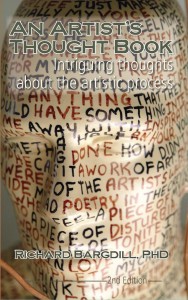 The second edition has over 75 new maxims on the artistic process from the multifaceted artist, Richard Bargdill. Chapters concentrate on poetry, singing, painting, the nature of creativity, and what it means to be an artist. In separate sections, the artist has picked his favorite maxims and elaborated on what those particular ones mean to him. Thus, the reader can view the work initially without influence but later can gain from the input of the author.
About the Author
Dr. Richard Bargdill earned his PhD in clinical psychology from Duquesne University. Currently, Dr. Bargdill is an assistant professor of psychology at the Virginia Commonwealth University. He is editor and co-editor of two upcoming books: Psychology and the Good Life: Selected Readings from the History of Psychology and Introduction to Humanistic Psychology: A Supplemental Text. In addition, Rich has won multiple awards for his poetry and visual artwork (but not his singing)! His sculpture called "I'm a tree chopped down everyday" was recently awarded 1st place at the official Pennsylvania State Art show.
Product Details
Paperback: 178 pages
File Size (e-book): 491 KB
Publisher: University Professors Press; 2 edition (May 27, 2014)
Language: English
ISBN-10: 1939686067
ISBN-13: 978-1939686060
ASIN: B00KVRWFQE