Shadows & Light: Theory, Research, & Practice in Transpersonal Psychology (Vol 1 & 2)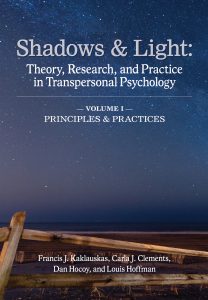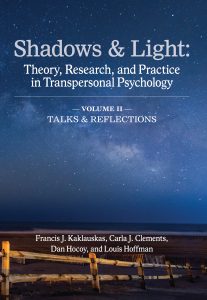 The University Professors Press is proud to announce the release of a new 2 volume series: Shadows & Light: Theory, Research, and Practice in Transpersonal Psychology by Francis J. Kaklauskas, Carla J. Clements, Dan Hocoy, and Louis Hoffman.
Shadows & Light: Theory, Research, and Practice in Transpersonal Psychology is a groundbreaking 2-volume series updating many essential topics in transpersonal psychology. It builds upon traditional topics to cover vital contemporary transpersonal psychological issues ranging from mindfulness and spirituality through social justice and sexuality.  The range of contributors is broad, diverse, and inclusive and will bring the reader on many inward and outward journeys of human growth and potential.
Volume I is written is a traditional educational style with additional chapters covering cross cultural psychology, ecopsychology, finding one's voice, the evidence based foundation of transpersonal practice, ritual, and much more.  This volume includes chapters by established leaders such as Stanley Krippner, John Davis, Dan Hocoy, Pat Luce and Robert Schmidt as well as fresh voices with new perspectives on transpersonal psychology. The chapters are readable and personal, yet well researched and scholarly.  These volumes are destined to become seminal texts in the field.
This collection contains talks and reflection pieces that are enjoyable and fascinating in the immediacy of the authors' voices and their messages for the individual and the collective.  A wonderful selection of pieces by established leaders such as Charlie Tart, angel Kyodo williams, Judy Lief, and Roger Walsh as well as influential emergent scholars such as Ian Wickramesekera II, Dan Hocoy, and Louis Hoffman.  These volumes are destined to become a classic text in the field.
What People are Saying About Shadows & Light
These volumes bring transpersonal psychology into a more contemporary era and expand its application into new approaches for healing and growth. It is a pleasure to see new thinking that extends the seminal insights of transpersonal psychology into such areas as social action, diversity, and inequality, to connect the inner with the outer world, and to locate personal transformation in a context of social transformation, indeed as the most powerful form of social action. This is a much needed contribution to the field.
Brant Cortright, PhD
Author of Psychotherapy and Spirit:
Theory and Practice in Transpersonal Psychotherapy
Professor of Psychology, California Institute of Integral Studies
Drs. Kaklauskas, Clements, Hocoy, and Hoffman have pulled together an impressive display of talented Transpersonal Psychology writers who present the complexities of the theory and practice in a way that the reader can readily understand and grasp. The writings are applicable for numerous issues, conditions, and settings and will be a valuable resource that will enhance the teaching, learning, research, and practice in the field.
Nina W. Brown, Ed.D, LPC, NCC, FAGPA
Professor and Eminent Scholar
This collection literally has it all from scholarly reviews of the intellectual and cultural origins of transpersonal psychology through relevant research and moving personal experiences to contemporary cutting edge applications. It clearly demonstrates that transpersonal is alive and well as it passes from middle age to elderhood.  Timely, yet timeless.
David Lukoff, PhD, Past Co-President,
Association for Transpersonal Psychology and the Institute for Spirituality and Psychology
This book takes the reader on a journey across time, cultures, and perspectives, arriving at a fully contemporary view of transpersonal psychology. A mindful look at impassioned living, this scholarly collection explores the crossroads of Human Science and Spirituality, and is a must read!
Donna Rockwell, PhD, President Elect,
Society for Humanistic Psychology (American Psychological Association Division 32)
Shadows and Light is a stunning collection of essays that enables the reader/seeker to take a deep dive into a richly imagined framework for transpersonal education. It is a timely and elegant offering of contemplative-based theories, research, and practices. I predict it will be heralded as a triumph in the field!
Gaea Logan, LPC-S, CGP
Executive Director & Founder, International Center for Mental Health and
Human Rights–Social Responsibility Award Recipient, Group Foundation for Advancing Mental Health
This collection is filled with compassion and curiosity, hope and humility. By integrating contemporary research, multicultural and social justice perspectives, and the vitality of relationships with self, others, and the world, the essays and talks provide refreshing energy to psychological perspectives on growth, transformation, and finding one's place in this often challenging world.
Pat Denning, PhD, & Jeannie Little, LCSW
Founders, The Center for Harm Reduction Therapy