Bare: Psychotherapy Stripped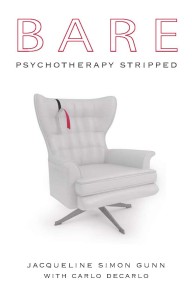 "The jock," "a whore," "a closet case," "a paranoid schizophrenic," and "a killer." In life, in entertainment, in myth, we feel drawn to archetypal personalities—to their drama, to their denial and inner conflicts, to their personal journeys, and to what makes them tick. These five are just some of the people who make up BARE: Psychotherapy Stripped, which explores the true-life chronicles of long-term psychotherapy patients while sharing with the reader what goes through the mind of the therapist during the session. Using a first-person, non-traditional novelized format, this case-study book strips away the classical barrier between the psychologist and the patient so the reader can live through the patients' traumas, their ups and downs, and experience how it feels to sit in the therapist's chair. While empathizing with the patients' lives, readers might just glean insight into themselves and their life in general. BARE peels back the veil of therapy with moving, shocking and sometimes humorous results.
About the Authors
Jacqueline Simon Gunn, Psy.D. is a Clinical Psychologist in private practice in Manhattan, a freelance writer and author. She is the former Psychology Internship Training Director and Clinical Supervisor of The Karen Horney Clinic. Gunn is bold and irreverent in her storytelling – she likes to 'tell it like it is.' Using wit and guts in straight-forward narrative style, Gunn's writing shows her readers that fact-is-stranger-than-fiction. And she hopes by baring truths her readers may find some inspiration along the way.
Carlo DeCarlo grew up in New Jersey–a writer and performer at heart, and a TV and movie watcher by practice. He spent years toiling away first in public relations, then in publishing, knocking his head against brick walls. Though Carlo was sure his latest book, BARE, written with Dr. Jacqueline Simon Gunn, would be a fun adventure into the mind of a therapist–and to this day he swears it is–for him, writing the book turned into an unexpected emotional catharsis. In fact, several times during the writing of the book, he was found curled up under his desk counting dust bunnies. Fortunately, we got him in treatment, and now he's back to counting dust bunnies from his chair like everyone else. We've assured him that BARE readers will not suffer the same reaction.
Product Details
Paperback: 300 pages
File Size (e-book): 3482 KB
Publisher: University Professors Press (June 25, 2014)
Language: English
ISBN-10: 1939686040
ISBN-13: 978-1939686046
ASIN: B00LCN1HA6