Our Last Walk: Using Poetry for Grieving and Remembering Our Pets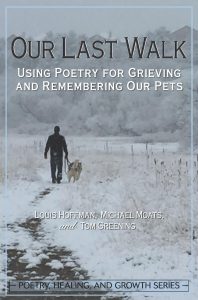 About Our Last Walk
Losing a pet is a deeply painful experience, yet often misunderstood by many who see the beloved pet as "Just a pet." Our Last Walk: Using Poetry for Grieving and Remembering Our Pets is a powerful resource for those experiencing pet loss and those who are supporting others who have lost a pet. Filled with powerful, authentic poems expressing loss, Our Last Walk helps the grieving person find words for their loss while sharing in the experience of others who have traversed that same painful journey. More than a book of tears, Our Last Walk also helps people to remember their beloved pet, preserving the love and memories of relationship. Through this book, many will find encouragement, healing, and hope.
Read more about the contributors to Our Last Walk and the Poetry, Healing, and Growth Series here.
What People Are Saying About Our Last Walk
What an incredible book! Our Last Walk is a book I find I cannot put down. The captivation was not only because I had recently lost a "dog love of my life," but, I found, these authors somehow knew me and my relationship with Taylor as if they had spent hours interviewing me. They know that remembering is the essential part of both grieving and healing and what better way to remember than to reach down into your deepest self and be creative. While most of us are certainly not poets, it is clear that does not matter. What does matter is that we own those key emotional words, thoughts, and expressions that are tied to our lost relationship. They are in us. The therapy comes when we invest the time to find them and make them sing what our soul is trying to say.  We are the only ones that can tap those expressions and that kick starts healing. This expression starts something else also: our meager attempt at writing a poem about our incredible relationship ignites, enrichens, and somehow enlivens what we thought was gone. Those very words, from deep within us, are our undefinable connection with our sweet animal life that left us, holding only their collar, far too soon. There is no better way to grieve, heal, and honor their life. I cannot thank Drs. Louis Hoffman, Michael Moats, and Tom Greening, enough.
Jim Humphries, DVM
Veterinarian, Home with Dignity
Our Last Walk is a collection of poems that tells the story of the unconditional love and companionship our pets offer. It also shares the depth of the love and the grief that emerges for family members when a pet is suffering. Take a moment to sit down and read these heart-opening poems. This poetry reveals the soul connection between people and the pets that become family members.
Terri Goslin-Jones, PhD
Creativity Specialization Lead Faculty
Saybrook University
Our Last Walk will strengthen those struggling with the death of a beloved pet, in original verse written by those who truly understand what it means to love, grieve, and honor the lives of our animal companions. The poems in these pages are thoughtful, heartfelt tributes to the creatures whose days are always too brief but so beautiful in passing.
Gary Kowalski
Author, Goodbye, Friend: Healing Wisdom for Anyone Who Has Ever Lost a Pet & The Soul of Animals
This remarkable treasury gives words to the unspeakable grief and pain that so many of us feel when a beloved animal companion dies.  It celebrates the special bonds we share with these wondrous loved ones. These poets give us the comfort of knowing that others understand what we are going through when we risk opening ourselves up to loving these fellow creatures and enduring the unendurable pain of losing them.
Kenneth S. Pope, PhD, ABPP
Co-author of Ethics in Psychotherapy & Counseling, A Practical Guide (5th ed.) and How to Survive and Thrive as a Therapist: Information, Ideas, and Resources for Psychologists in Practice
As a veterinarian, I see pet owners dealing with grief daily. Saying goodbye to a pet never gets easier, whether it is your first or fifty-first experience. It is important to take care of our pets as they near the end of their lives, but we must take care of ourselves. As a pet owner, we may find ourselves dealing with the shock of a sudden passing or the heart heavy task of deciding if and when the tie to end suffering is upon us and our pet. Dealing with grief is personal, difficult, and unique for each of us. Poetry allows us to relate to others who have experienced the loss of a pet as well as a venue for you own self-expression and healing. Using poetry to honor a pet's distinct personality not only serves as a tribute to our friends, but also as an avenue of healing and expression for ourselves. With the use of book, my wish for you, the reader, is to find a healthy venue for expression, peace in your heart, and satisfaction in knowing that you made a huge difference in the life of an animal.
Sean E. Snyder, DVM
Veterinarian, Parkway Veterinary Clinic
Our Last Walk Flyer: our-last-walk-flyer
Our Last Walk Flyer for Resellers: our-last-walk-flyer-for-resellers